You can never have enough…
Scarves. You might run out of places to put them, people to give them to, but you can never have enough scarves. Given that there are so many different styles, its easy to quickly build up quite a collection without repetition–knit, crocheted, woven…cotton, wool, silk…the list of available scarf materials goes on. Even the basic shape of the scarf now varies from the long strip we're all used to seeing: infinity loops, fashionable for a while now, have exploded this year; large squares and triangles have a bohemian quality and are great for folding; short cowls, functioning as a sort of bulky necklace as much as a scarf, are ideal for keeping warm while still showing off a blouse (they're also a great quick project when you have a limited amount of expensive luxury yarn, or need to whip up a present fast). Variety: that's my excuse for premiering another scarf project and I'm sticking to it.
This project is simple and fast–perfect for last-minute gifts. Just pick a gorgeous, flowing fabric, sew, and give–as easy as 1, 2, 3. See the end of this post for complete instructions.
If you think just one or two scarves is enough, scan through the creative takes on the classic accessory shown below to find out how much you've been missing.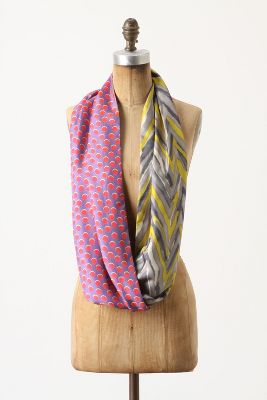 Twofold Lucia Loop from Anthropologie
A currently stylish loop scarf with two sides for multiple moods
Scenic Scarf, Dog Walker from Anthropologie
Fun scenes unwind when a scarf is stretched to its full length…this one is perfect for me
The Oliver by Bearded Owls Hoots
You can't get cozier than bulky crochet, book-ended by thick fringe on either side
Simple Stripes Scarf; find the pattern here
A low-key garter stitch loop, threaded with multicolored stripes: a versatile favorite
This pattern has been UPDATED since it's original posting due to problems with measurements; if you viewed the instructions before Dec. 18, you will need to look at the measurements again.
Flowing Infinity Loop Instructions
2 yards of gauzy fabric (if you're an experienced sewer, go as light and silky as you please; if you're a beginner, this project is still great for you, just use a slightly heavier fabric)
Matching thread
This project uses a 5/8″ seam allowance
1. Cut your fabric so that it measures 64 1/2″ x 18 1/2″; this means when doubled into a loop, your scarf will be 32″ long.

2. Fold this piece in half lengthwise with right sides facing together, and, using lots of pins, machine sew up the long side, leaving approximately 5″ unsewn on either end. Your piece should now be 64″ x 9″. Turn your piece right side out and iron down the seam.
3. Take each end of the scarf and match them up, right sides facing together, and machine sew together–the distance you are sewing should be 18″, since you left a few inches of the long side of your scarf unsewn at the beginning. Turn right side out and iron.
4. Hand sew the remaining portion of open seam to finish your scarf. Voila!