Bits & Pieces: Son of a Sailor
1. Son of a Sailor isn't exactly a new find. Back in December, I purchased a copper necklace with a tiny brass charm from their booth at the Renegade Handmade Holiday Craft Fair in San Francisco. Long before encountering their even-more-adorable-in-person charms last month, I admired their hand-painted necklaces and leather bracelets on Design*Sponge and at Schatzelein Austin. So why the sudden need to feature an Etsy shop you've likely already heard of? Well, I'm completely enamored with their new heart bracelet and necklace, available for Valentine's day.
Valentine's Day Bracelet: Red and White Chevron Lariat with Heart Charm & Valentine's Day Brass Heart Charm Pendant Necklace
A few more (slightly less) favorite pieces:
1. "The Bohemian"
2. "Circle"
3. "The Pecos Handpainted"
2. Speaking of necklaces I can't get enough of, this necklace from Anthropologie, aside from being plain adorable, is so creative and appeals directly to my crafty side. I feel a sudden urge to start wrapping things in thread…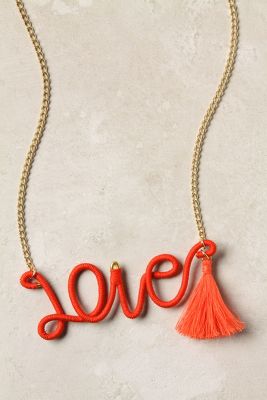 Thread Wrapped Sentiment Necklace
3. Remember the new camera I got a while ago? Since then it's been desperately in need of some outerwear. If you've also been craving a new camera case, check back tomorrow for instructions to make your own.
4. Just can't wait until tomorrow evening for a new DIY project? I recommend catching up with the Purl Bee and Poppytalk. Valentine's Day isn't even close to my favorite holiday, but between the particularly cute stationery I've seen this year and the crafting blogs that have been positively overflowing with sweet and colorful love-themed projects, 2o12 is looking like the year the arts and crafts world will finally convert me to a Saint Valentine lover. I'll never like sweethearts candy, though.
5. This last "bit" is glaringly irrelevant to anything else in this post, but really that's what  my weekly bits and pieces post is for–the stuff that doesn't quite fit into other features. That said, if you've been to Jardin des Tuleries in Paris, you've probably  noticed the particularly large and well-groomed pigeons waddling around the area–these birds seem to be all over Europe, but were most conspicuous when I was in Paris. I was probably more fascinated and delighted by these fat pigeon-like creatures than most people are, which is why I was thrilled yesterday when I came across this pigeon illustration by Alice Tait. The charming little table inspired me to Google "types of pigeons," and it turns out there are an overwhelming number of pigeon breeds. Who would have guessed?